Tuesday night at Petco Park in San Diego, baseball's biggest stars will convene for the 2016 All-Star Game. The American League is 15-4-1 in the last 20 All-Star Games, so they'll look to continue their recent dominance over the National League. That's no small matter with homefield advantage in the World Series on the line.
A total of 79 players (79!) were selected to the All-Star Game this year thanks to injury and pitching replacements. Here are the full rosters for both teams. Here's how you can watch this year's Midsummer Classic:
Time: 8pm ET
Television: Fox (broadcasters: Joe Buck, John Smoltz, Tom Verducci, Ken Rosenthal)
Streaming: Fox Sports Go
Monday afternoon, managers Ned Yost and Terry Collins announced their All-Star Game starting pitchers and lineups at a press conference at Petco Park. Here is the AL starting lineup:
2B Jose Altuve, Astros
CF Mike Trout, Angels
3B Manny Machado, Orioles
DH David Ortiz, Red Sox
SS Xander Bogaerts, Red Sox
1B Eric Hosmer, Royals
RF Mookie Betts, Red Sox
C Salvador Perez, Royals
LF Jackie Bradley Jr., Red Sox
Starting Pitcher: LHP Chris Sale, White Sox
Sale was a fairly easy call for the AL starter. He leads the league with 14 wins and has a 3.38 ERA with 123 strikeouts in a league-leading 125 innings. This is Sale's fifth consecutive All-Star Game and his first start.
Yost indicated during the press conference Indians righty Corey Kluber, Rangers lefty Cole Hamels, Blue Jays righty Aaron Sanchez, and White Sox lefty Jose Quintana will follow Sale. The bullpen will take over as those five.
Now here is the NL starting lineup:
2B Ben Zobrist, Cubs
RF Bryce Harper, Nationals
3B Kris Bryant, Cubs
DH Wil Myers, Padres
C Buster Posey, Giants
1B Anthony Rizzo, Cubs
CF Marcell Ozuna, Marlins
LF Carlos Gonzalez, Rockies
SS Addison Russell, Cubs
Starting Pitcher: RHP Johnny Cueto, Giants
Nice touch by Collins starting Myers, the hometown Padres player, at DH and in the cleanup spot. That was his selection, not part of the fan vote. Also, it's worth noting Ozuna and Gonzalez are replacing the injured Yoenis Cespedes and Dexter Fowler in the lineup.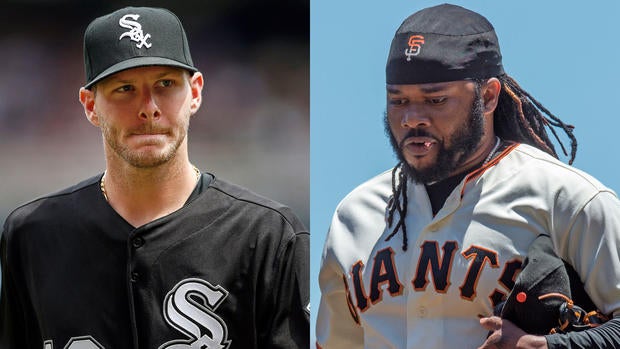 Chris Sale (l.) and Johnny Cueto will start the 2016 All-Star Game. USATSI
There was no shortage of qualified candidates to start on the mound for the NL, though Clayton Kershaw, the obvious candidate, was recently placed on the DL with a back issue. Cueto leads the NL in wins (13) and innings (131 1/3). This is his second All-Star Game and first starting assignment.
WHEN
July 12, 2016 at 6pm - 9pm
CONTACT
usstreamtv · 01774310165